Donations to Keep Beast Wars International Running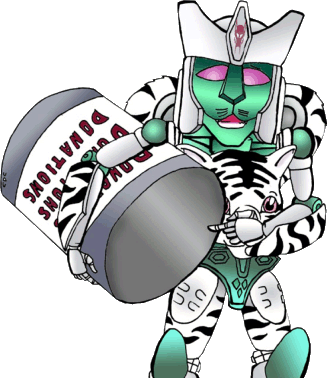 - Many thanks to Skyfire for this image!
Bwint.net is a non-profit website that is run and managed by only young women. It's a big site with a strong visitorship which gives us the impression that people enjoy visiting the Internet's biggest purely-Beast Wars fansite. However, in order for it to have a URL and sufficient space to host the 4000+ files and manage gigs worth of traffic, it needs a paid-for server to host it. Every year we need to renew the hosting package to keep the site going. Late last year the site went down because it had received too much traffic (visitors) for its particular hosting plan, so we were forced to upgrade. It's expensive for two people to keep running, so we rely on your help in the form of donations to pay the annual renewal fee. Every year we need to raise $120. It will pay for the site for another year.
Ideally, $10 would be most appreciated per person, but any amount is helpful, be it more or less.
If you're interested in helping us out, contact Hacker, the site's treasurer. You can pay via PAYPAL or send your money SNAIL MAIL to her.
OR: Given recent events and that Sapph had to pay our of her own pocket for the site and could really do with some financial help towards the cost of renewing the site, paypal her at sapphire@bwint.net
If you're going to pay via PAYPAL, then please send your money to this address: jlc@highstream.net
Or click the button below:
For general queries about payment, please email her at jennylcampbell@yahoo.com
If you have any other questions, please email Sapphire at sapphire@bwint.net
Prefer to get something for your money? Visit Bwint.net's Shop, and all profits from toy purchases will go into keeping the site running.
Thanks for your support!
Site Design: Sapphire. Created by: Sapphire, Miss Special, Hacker, Blaze Raptor, Pacerpaw and Araneae. Bwint.net is copyrighted to the bwint.net team.
Disclaimer: Beast Wars Transformers and its respective characters, plots and images are a product of Hasbro, Alliance and Mainframe Entertainment. Neither the owner nor the Bwint.net team and visitors claim any rights to it. This is a non-profit fansite. Original template designed by JSB Web Templates